Posted by Rich Harvey on Sep 23rd 2018
The venerable detective trades the Mouse Auditorium for the Palace Theater — and trades shots with some homicidal critics.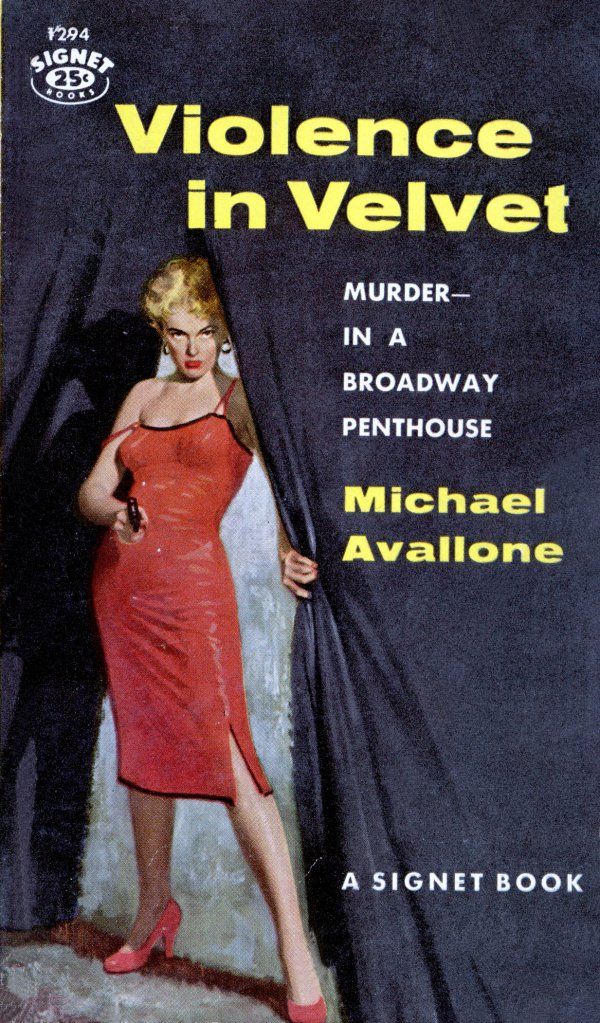 "Violence in Velvet"
by Michael Avallone
Signet Books, 1956
Cover by Robert A. Maguire
Available on Amazon Kindle
★★★★☆
Ed Noon investigates a Broadway bunch when a woman is murdered in her own apartment ... was it the scene-stealing husband, the alluring female secretary, the infatuated bodyguard, the unpredictable playwright, or ... could it have been the six-year old daughter?
This particular mystery takes place within a short time-span — five days — and the cast of suspects is kept to a reasonable number. Ed Noon slugs his way through a few bad guys, but he gets beat up often in this story.
At one point, readers get better acquainted with some of Noon's professional neighbors, when he returns to the "Mouse Auditorium" of his office. A watch repairman, a rare Oriental rug dealer, an accountant, and a few others are sketched out for the reader's benefit. Truth to tell, author Michael Avallone probably goes over the list of professional tenants in the office building for Noon's benefit primarily — a plot twist occurs with beneficial results for Noon. Had Avallone elaborated on his fellow office dwellers in the previous stories? Or thereafter? Since I was enjoying the story, I let it slide …

Violence in Velvet is the fourth Ed Noon novel, a fine example of pulp writing. Seems to me Noon is more down-to-earth in the earliest entries. Michael Avallone wrote several more Noon mysteries and, like any series, the author's efforts to out-do the previous story stretched credibility. But Ed Noon was always a reliable character, and Avallone was a reliable writer.